1004 Briarcliff Rd.
Warner Robins, GA 31088
United States of America
CATEGORIES & HEADINGSdetails >>
50s style retro dining furniture for residential or commercial use. Discounts available for designers to the trade.
Our 1950's style retro furniture is as comfortable as it looks. We provide retro dining furniture for diners, restaurants, ice cream stores, youth centers, employee break rooms, game rooms, and your very own cool-daddy kitchen with a retro 50's style. Our Classic Diner Collection offers new 1950's style diner tables, retro chairs, booths, benches and swivel bar stools which are made with heavy duty chrome plated 16 Gauge tubular steel frames which have a lifetime warrantee.
Whether it's time for your retro 50's kitchen remodeling project or you're in the market for something fun, we hope you will consider your kitchen designs carefully and select our retro kitchen furniture. You can now enjoy the comfort and secure feeling of our new 50's retro dining furniture, sent to you direct from the factory floor with discount shipping on retro furniture sets. Our retro 50's counter stool and bar stools will provide you with a blast to the past. Our cool retro kitchen tables and chairs, retro swivel bar stools, diner booths and dinette sets will delight you, your family, friends or patrons. You will enjoy your New Retro Dining Furniture for many years to come.


Vendor Showcase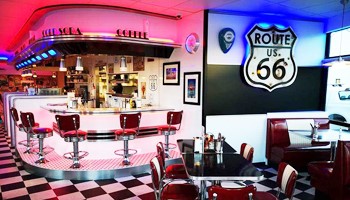 We provide our clients with a full range of retro style products that include commercial grade furniture, authentic car themed furniture and decor. We design and fabricate complete retro interiors that can include counters, back service area, soffits and other custom millwork. We also can specify and supply full interior packages that can include materials such as metal ceilings, diamond tufted wall panels, all types of flooring and wall tiles. Our packages also include unique décor such as metal or laminated wall panels, custom digital or hand painted murals by an exceptional artist, lighting, and large floor style décor.

We excel at full package interiors but we love those small residential spaces too!

We have completed projects worldwide, both residential and commercial.

To get started, send us images of the space, a sketch or drawing of the dimensioned area and a general description of the vision you have.

Contact us today to see what we can do for you?


Let me know what you think.
Thank you,
Jack Greenberg, President/CEO
Jack@NewRetroDining.com
Artista Gallery, Inc.
1004 Briarcliff Rd.
Warner Robins, GA 31088
Ph: (478) 320-2502
Fx: (404) 420-2890
www.NewRetroDining.com
www.NewRetroDesign.com
www.NewRetroCars.com
www.NewRetroHotels.com
www.NewRetroBars.com
read more